【2023/7/12】気候正義に関するワークショップ@岡山大学
2023.07.03
イベント
【2023/7/12】気候正義に関するワークショップ@岡山大学
CRPジャパンのインターンによるワークショップ「気候正義:グローバルサウスからの声を聞く(バングラデシュ、ベトナム、カンボジア)」を7月12日に岡山大学で開催します!
日時:7月1日(水)17:00 – 18:30
会場:岡山大学津島キャンパス一般教育棟D13
対象:岡山大学と岡山県立岡山城東高等学校の学生・教員など
【イベント詳細 ※英文のみ】
The fight against climate change is a battle that knows no borders. As our planet grapples with the escalating impacts of climate change, it is crucial to understand the diverse perspectives and experiences of those affected the most. We are delighted to announce that the Climate Reality Project, Japan, in association with the Global Discovery Program students, is hosting a Workshop on Climate Justice at Okayama University this July. This event will feature firsthand accounts from students representing Bangladesh, Vietnam, and Cambodia from the Global South, shedding light on the realities faced in these regions due to climate change.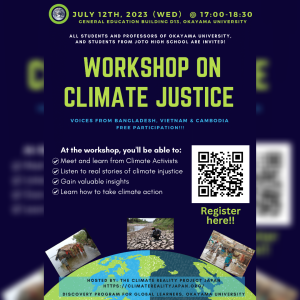 Discover Climate Realities from the Global South:
The Workshop on Climate Justice seeks to bridge the gap between the Global North and Global South by empowering voices from regions significantly impacted by climate change. The event will bring together interns from the Climate Reality Project (CRP) Japan, who are students of Okayama University, to share insights and experiences from their peers in Bangladesh, Vietnam, and Cambodia.
Empowering Discussions and Breakout Sessions:
Attendees will have the unique opportunity to engage in meaningful discussions during breakout sessions. These interactive sessions will delve into various aspects of climate justice, exploring solutions, initiatives, and the role of individuals and communities in taking meaningful climate action.
Who Can Participate:
This inspiring workshop is open exclusively to faculty members and students from Okayama University and Joto High School. By fostering a diverse and inclusive environment, the organizers aim to stimulate thoughtful conversations and ignite the passion for change among the academic community.
How to Register: Workshop Poster
Registration for this transformative event is now open! Simply scan the QR code displayed on the event poster to secure your spot and ensure your participation in this crucial workshop.
Language of the Event:
The workshop will be conducted entirely in English, providing an ideal platform for cross-cultural exchange and enabling seamless communication between participants from different backgrounds.
Be the Change, Be the Voice:
The Workshop on Climate Justice aims to inspire attendees to become advocates for climate action and climate justice. By sharing stories, experiences, and ideas from the Global South, we hope to instigate transformative change in the way we approach climate issues.
Event Details:
Date:

July 12th, 2023 (Wed)

Time:

17:00 – 18:30

Location:

General Education Building D13, Okayama University

Language:

English
Join us at Okayama University to be part of this special event. Let's be the change and amplify the voices from the Global South in the fight for climate justice!
開催日時:2023.07.12 17:00 ~ 2023.07.12 18:30
シェア