NEWS
【2023/4/17】Hiroshima Civil Summit2023「Climate Justice and Peace: Where are the voices not represented in the G7?」
2023.04.03
NEWS
【2023/4/17】Hiroshima Civil Summit2023「Climate Justice and Peace: Where are the voices not represented in the G7?」
On 16 and 17 April (Sunday and Monday), "Hiroshima Civil Summit" will be held at the Hiroshima International Conference Center and other locations in Hiroshima City.
On the day, civil society organisations will organize a variety of programs consisting of plenary sessions and small sessions to discuss various issues that our society faces and deliver civil society's voices to the world.
CRP Japan, with 350.org Japan and FoE Japan will hold a breakout session at 9:30-12:00 on 17th April, "Climate Justice and Peace: Where are the voices not represented in the G7?" The website is now open and registration has started, so please join us
From the CRP community, we will share local voices from Bangladesh, Cambodia, Vietnam and Zambia!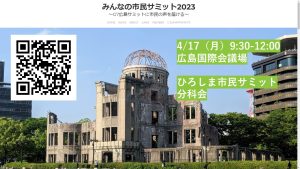 =
┛┛┛┛┛┛┛┛┛┛┛┛┛┛┛┛┛┛┛┛┛┛
・Date:17th April, 2023 (Mon) 9:30〜12:00
・Venue:International Conference Center Hiroshima – Dalia 2
・Free (capacity: 70 attendants)
・Pre-registration required
┛┛┛┛┛┛┛┛┛┛┛┛┛┛┛┛┛┛┛┛┛┛
The G7 Hiroshima Summit will be held in May 2023 to discuss climate change and energy issues, which are closely related to world peace as well. However, the climate crisis is becoming more serious in countries and regions outside the G7. How can we, gathered in Hiroshima, Japan, overcome this crisis in solidarity with the people of the Global South (developing countries) who experience the impacts of climate crisis "first and worst" – in order to realize climate justice and peace?
In this breakout session, we will invite guests from the Global South to share their voices from the frontlines of the climate crisis in light of the latest developments on the climate crisis and peace in preparation for the G7 Hiroshima Summit. We will then engage in dialogue among the participants to take the next actions.
【Registration】
<STEP1> Check event details on the website
https://hiroshimacsummit2023.mystrikingly.com/
<STEP2> Register to attend the Civil Summit below
https://hiroshimacsummit2023.mystrikingly.com/
<STEP3> Register to breakout sessions of your selection
https://forms.gle/Lbd1ARfeEJ7XMoH47
開催日時:2023.04.17 9:30 ~ 2023.04.17 12:00
開催場所:広島国際会議場
住所:
SHARE